Air + Rail
---
With more customers seeking additional convenient travel options, our new Air + Rail program will offer fast, seamless connections between Amsterdam, Brussels and Antwerp, in partnership with Thalys Trains. Through the interconnected European rail infrastructure, customers can easily transfer between the plane and the train at Amsterdam Airport Schiphol.
---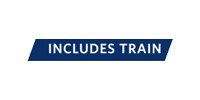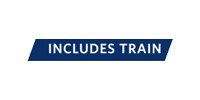 Destinations that include a train segment will have a badge when booking that states "INCLUDES TRAIN".
---
Follow the below steps to book your upcoming travel:

Book your plane and train tickets* together on delta.com
Select from Brussels Airport (BRU), Brussels-Midi Rail Station (ZYR), Antwerp International Airport (ANR) or Antwerp Central Railway Station (ZWE) as your origin or destination
Choose your date and time for your trip and enjoy
*While you can purchase this train service from Delta, it is offered under the AccessRail travel terms and conditions and will be operated by Thalys Trains.
---
For Your Flight

Check in up to 24 hours in advance of your scheduled flight departure time in My Trips or using your Fly Delta app in order to receive your boarding pass.
For Your Train Ride
Visit Accesrail.com, opens in a new window beginning 72 hours before your scheduled train departure time. Use your Delta ticket confirmation number to check in and receive your boarding pass. You can also obtain your train ticket at the in-person ticket window at your train station.
After you check in for your train, your class of carriage will be clearly shown on your train ticket. Please note that if you are traveling in Delta One®, you will be in The Premium experience carriage. All other cabins in-flight will be traveling in The Standard carriage on the train.


---
Train Boarding Pass
To receive your train boarding pass, you can check in on Accesrail.com, opens in a new window (up to 72 hours in advance) for your e-ticket or you can pick up a paper ticket at the Thalys ticket counter at your train station.
Train Seat Selection
Your seat will be automatically assigned when you check in for your train ride on Accesrail.com, opens in a new window or in person at the train station.
Baggage
After going through Customs, please collect your bags at the airport baggage claim as they will not be automatically transferred from the plane to the train. Once you have your bags proceed to the Thalys ticket counter at the train station to collect your train ticket, if you do not already have an e-ticket, prior to boarding your train. Once on board, you can store your bags on the train.
Amsterdam Train Station Location
This train station is located at Amsterdam Airport Schiphol in the central plaza of the airport with clear signage in both Dutch and English. If you have questions regarding trains, the NS Service Desk has English speaking staff that will be able to assist you. From the train station, it is about a 10 minute walk to check your luggage for your flight.
Delayed Flight
In the instance your flight is delayed, your train ticket is valid for 72 hours after your train's scheduled departure time. If you miss your scheduled train, please go to the NS Service Desk in the train station and a customer service representative will assist you in printing a new ticket.
Flight Assistance
Delta Customer Care Representatives in the U.S. & Europe will be
able to assist
in resolving issues with the flight portion of travel after you've booked your ticket, including changing or canceling flights.
Train Assistance
AccesRail representatives will be able to help with train specific questions but are not able to access the air portion of your ticket. Contact AccesRail at +1 514-733-4962 or through their
contact form

, opens in a new window
.