Delta Sky Way at LGA
DELTA SKY WAY AT LGA
Rebuilding Our Home in Queens
Delta is building a new, state-of-the-art home at New York's LaGuardia Airport. Delta's terminal will open in phases through 2026. Once completed, the new terminal will offer a premier customer experience, solidifying Delta as New York City's #1 Airline.
NYC Concessions
Enjoy a taste of New York with dining options from favorite local chefs and eateries.

Flatiron Tavern & Provisions
Rossi Pizzeria
Birch Coffee
H&H Bagels
Juice Press
Modern Design & Enhanced Views
The 105,000-square-foot facility will feature flexible gate positions that can accommodate up to 737-900 aircraft and floor-to-ceiling views of Flushing Bay.
Spacious Gate Areas
Relax and recharge in Delta's newly designed gate areas, offering travelers more space before their flight.
New York – LGA Check-In Changes
As of July 2, Terminal D check-in has re-opened. Customers are encouraged to verify their departure terminal before arriving to the airport.
See the Benefits of the Delta Sky Way at LGA
We've created a comprehensive vision for a future-focused LaGuardia with shorter wait times, a more-efficient check-in and completely improved terminal experience.
INCREASED SPACE & CHEF-DRIVEN DINING
Enjoy more space, more power outlets, and wider walkways in the new terminal. Plus, increased seating surrounded by local, fresh dining options curated for the new experience.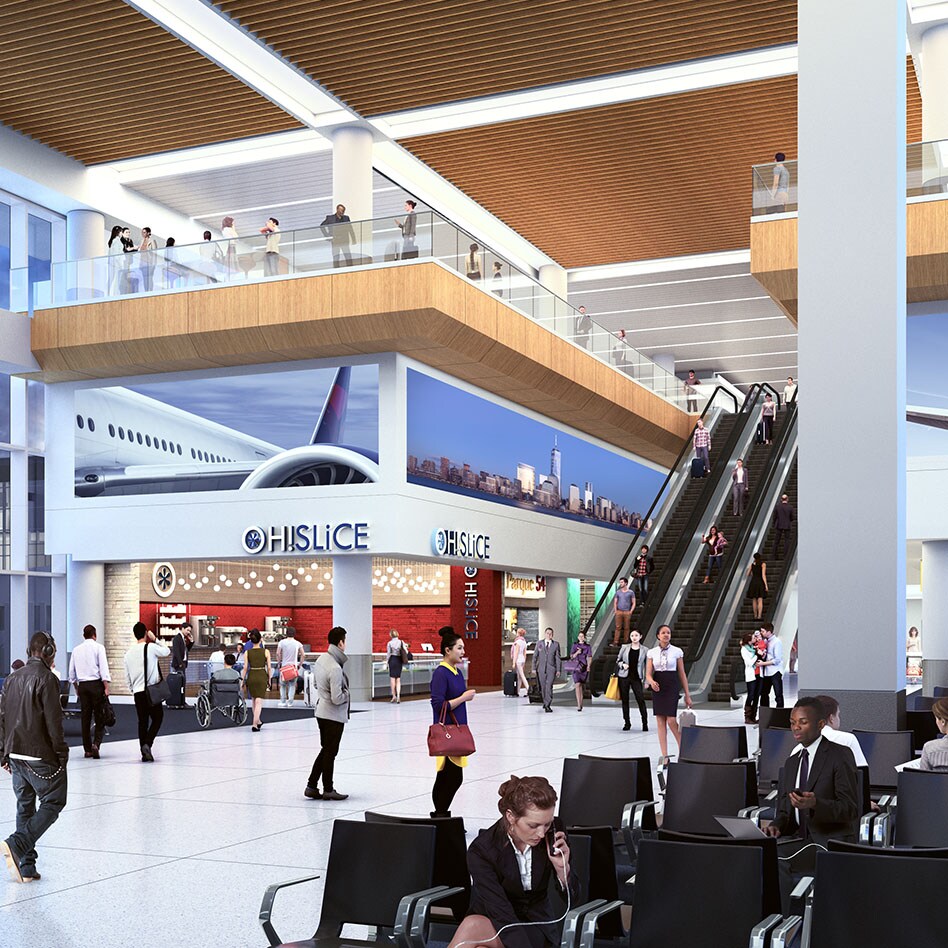 MORE SUSTAINABLE & EFFICIENT
While making improvements to the new terminal, we've kept our world in mind. You'll see sustainable technology and improvements in energy efficiency in each new space at LaGuardia.
SPEED THROUGH SECURITY WITH CLEAR
The fastest way through security at LGA and over 25 other airports nationwide. CLEAR biometric screening lanes are available in Terminals C and D to help you breeze to the front of the security line with just the tap of a finger. SkyMiles®Members enjoy preferred pricing, thanks to our partnership. Enroll with CLEAR today. Terms apply.
ADVISORIES
Traffic & Parking
As we make progress, here's what you need to know. Visit LaGuardiaAirport.com for frequent updates on traffic and parking from the Port Authority of New York and New Jersey. Due to construction, we encourage travelers to allow extra travel time and to use mass transit.
---
Traveling By Car
Given airport roadway construction, customers who require access to Terminals C and D and are traveling eastbound on the Grand Central Parkway (GCP) may prefer to use an alternate route. This alternate route bypasses on-airport roadways in favor of more direct expressway access via westbound GCP.
If traveling eastbound on the GCP:
Remain on the GCP and bypass LaGuardia Airport.
Immediately beyond the airport, take Exit 9E for Northern Boulevard.
Pass CitiField and continue on Northern Blvd.
Follow signs for westbound GCP to return back to LaGuardia via the GCP (GCP entrance will be just past the Sunoco gas station).
Traveling on the GCP Westbound, take Exit 6 to access Terminals C and D.
This alternate route avoids roadway traffic on the west side of the airport. However, please be advised additional volume may occur along this route when events are held at Citi Field and Flushing Meadows-Corona Park.
---
Parking
Daily Parking C/D, Hourly Parking/C and D Wait Area and Long-Term Parking are accessible to Terminals C & D
---
Via Public Transportation
The Q70 bus, MTA's LaGuardia Link, connects the airport to the 74th and Roosevelt Ave. station with connections to the 7, E, F, M, R subway trains.
The M60 at 125th Street offers connections to Metro North and the 4, 5, 6 and A, B, C, D subway trains.
Due to temporary closure of Terminal D check-in, the MTA buses will only pick-up/drop-off at Terminal.
Taxis
Travelers exiting LGA will no longer need to take a bus to catch a cab, they are now available curbside.
Speed Through Security With CLEAR®
With CLEAR, you can save time and get through security in just the blink of an eye. Take advantage of the SkyMiles preferred price offerings for a CLEAR membership including:
Complimentary for Diamond Medallion® Members
$109 for Platinum, Gold and Silver Medallion Members, and select SkyMiles Credit Card Members
$119 for General Members
Enroll with CLEAR today. Terms Apply.
All SkyMiles Program Rules apply. To review the rules and Member-only pricing offer terms, please click here.