CONVENIENT, CONNECTED:

Delta operates up to 13 daily flights from the U.K. to the United States, with services from London-Heathrow (LHR) , Edinburgh and Glasgow (GLA) airports. In summer 2019, we will launch a new nonstop service from Edinburgh to Boston and also increase our flights from Heathrow to both Detroit and Portland. Through our hubs in the U.S., we can conveniently connect you to more than 200 destinations throughout North America, Latin America and the Caribbean.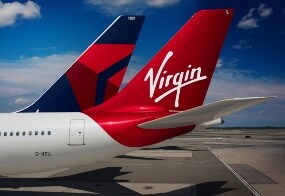 The Delta and Virgin Atlantic travel experience
Delta Flights Depart and Arrive at Heathrow's T3.
Delta and Virgin Atlantic jointly operate out of Terminal 3 at London Heathrow, improving the customer experience through simpler departures, transfers and arrivals. Read on to learn more about the many benefits you'll enjoy as part of our industry-leading partnership.