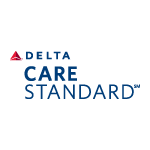 CORONAVIRUS: TEMPORARY CHANGES TO THE BOARDING PROCESS
For safer travel, we've made temporary changes to our normal boarding process and are boarding starting from the back of the aircraft to the front. For the latest updates on how we're working to keep you safe, please visit our Coronavirus Update Center.
Customers needing assistance or additional time to board

Delta One customers
Diamond Medallion® Members

First Class or Delta Premium Select

Delta Premium Select customers

First Class customers

Diamond Medallion® Members (if aircraft does not have a Delta One cabin)

Early boarding for customers traveling with carseats and strollers

Platinum Medallion® members
Gold Medallion® members
Flying Blue Platinum and Gold members
Virgin Atlantic Flying Club Gold members
Virgin Australia Platinum and Gold members
GOL Smiles Diamond members
SkyTeam® Elite Plus members

Silver Medallion® Members
Delta Corporate Travelers
Delta SkyMiles® Gold, Platinum and Reserve Card Members
Flying Blue Silver members
Virgin Atlantic Flying Club Silver members
Virgin Australia Velocity Silver members
GOL Smiles Gold members
Sky Team® Elite
SkyMiles Select Members

Main Cabin customers booked in T, X and V fares

Basic Economy customers (E)
Silver Medallion Members will not have a dedicated Priority Boarding zone on Delta flights departing AMS and CDG due to Air France-KLM boarding policies.