First Class
First Class
Enjoy Each Mile
---
For amenities and superior service you won't find just anywhere, choose First Class on your next Delta flight. You'll enjoy personalized service from a dedicated flight attendant, Sky Priority® service throughout your journey and a thoughtful travel experience from start to finish. The benefits don't stop there, either.
CORONAVIRUS: TEMPORARY CHANGES ON BOARD


For safer travel, we are making temporary changes to the onboard experience, including limiting food and beverage offerings. Visit our Coronavirus Update Center for the full list of temporary changes.
Space to Work or Relax
Available on domestic flights, you'll find the things you want to help make the hours fly by in First Class. You'll have room to stretch out, an outlet to stay powered up and, of course, the signature service of a Delta flight attendant for the First Class cabin.
Spacious Seat
---
Stretch out with up to 8 inches extra legroom compared to a Main Cabin seat, and up to a 5.4-inch recline. Also enjoy an 11-inch seatback screen on many routes.
Personal Service
With a dedicated flight attendant in the First Class cabin, you'll receive personalized service including a pre-flight drink or hearty snack, prepared whenever you're ready.
Productivity
Find more built-in 110-volt outlets to stay powered, then stay connected with Wi-Fi on nearly all flights. First Class offers the space and power you need to stay productive or stay entertained.
Amenities
Relax in comfort with a soft blanket and pillow. Forgot your headphones? Find complimentary ergonomically-designed earbuds by Billboard for First Class customers as available on select flights.

WHAT'S THE DIFFERENCE?
Browse the complete seats and cabin experiences comparison chart.
STILL HAVE QUESTIONS?
We have answers. See First Class frequently asked questions.
First Class Food, Made Fresh
Enjoy upgraded and seasonal food and beverages. Though they vary based on the distance of your flight, you'll always enjoy complimentary Starbucks® coffee, wine, beer and spirits for 21+. Please drink responsibly.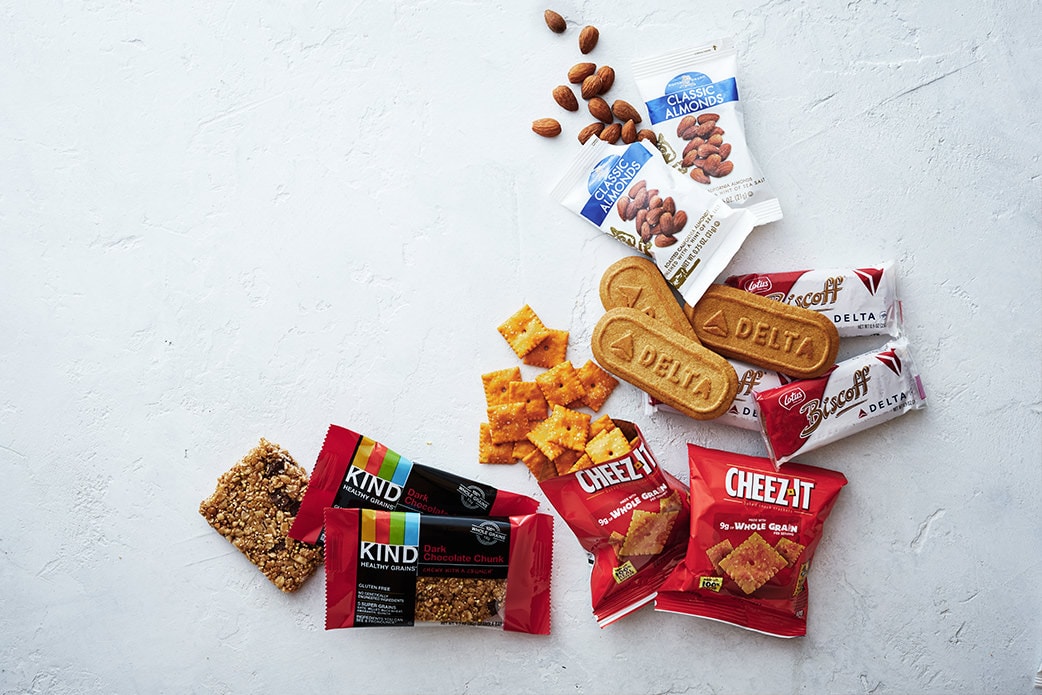 Short Flights
Find savory and healthy snacks on flights under 900 miles. Enjoy a complimentary alcoholic or non-alcoholic beverage and a variety of snacks to choose from.
Medium Flights
On flights ranging from 900-1,399 miles, enjoy a full chef-curated meal service. Find breakfast and lunch items on flights departing from 5 AM to 1:30 PM, dinner for departures from 4 PM to 8 PM and a hearty selection of snacks at most times in between.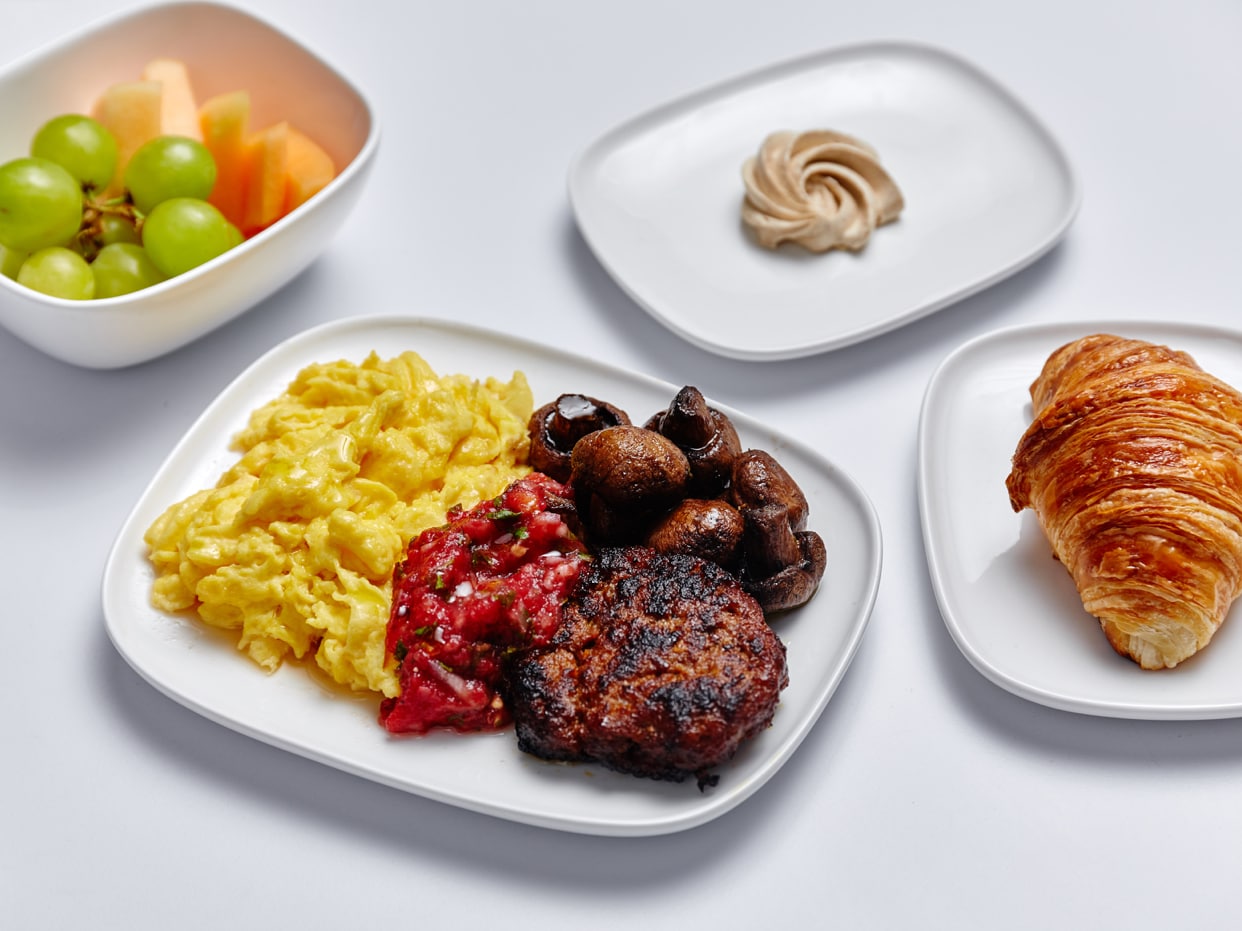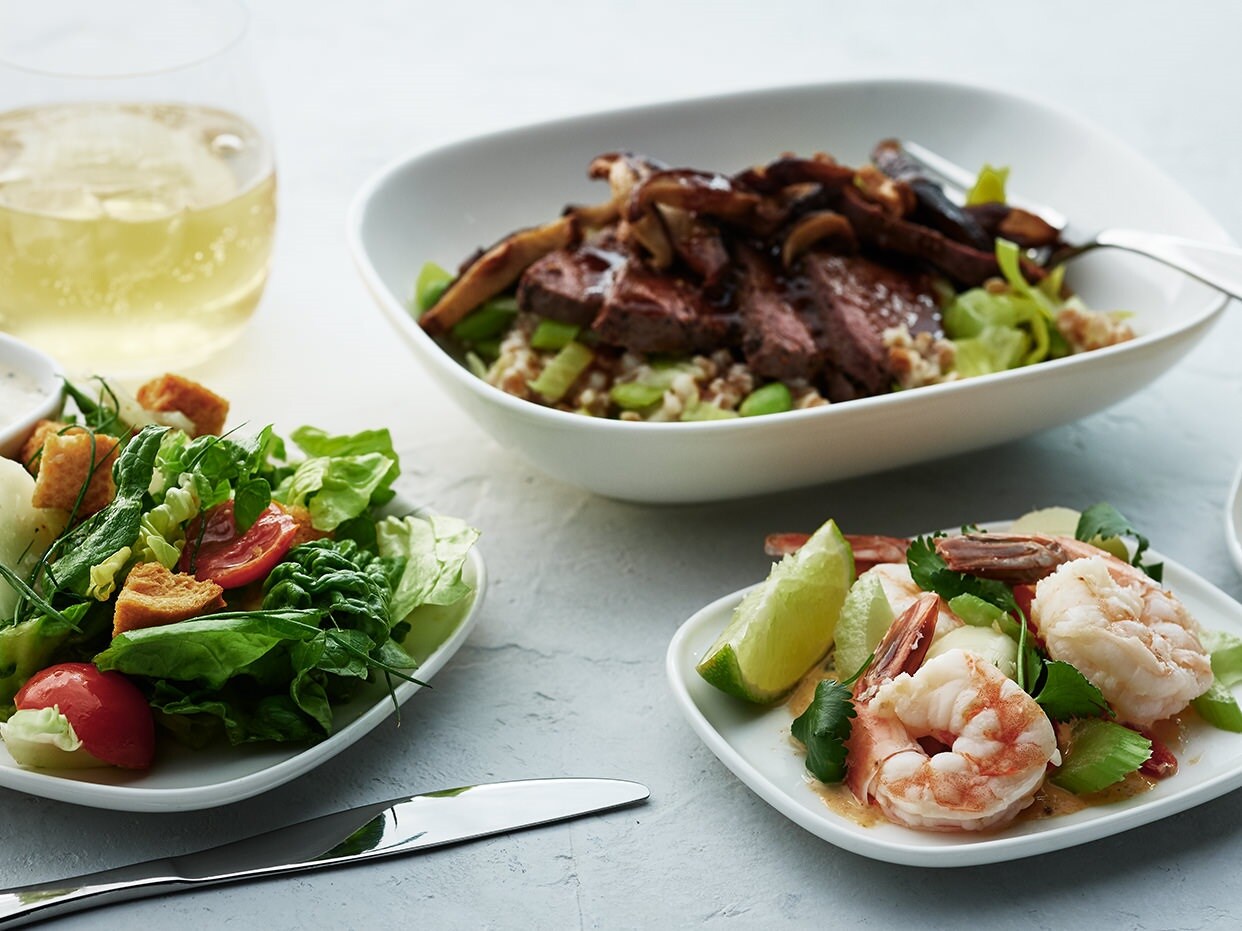 Longer Flights
For flights over 1,500 miles, you'll find a fresh, full meal service — featuring a variety of healthy and local options as part of your meal. You'll have several meal selections to choose from.
A First Class Journey

When you fly First Class, the benefits begin before you board the plane. First Class on Delta means receiving Sky Priority® service, which offers accelerated check-in, security, and baggage handling. Once it's time to board, you're invited to board first so you can settle in sooner and enjoy the First Class experience.
Check-in and Security
Enjoy Sky Priority® accelerated check-in and security service to get you to your gate faster.
Boarding
With First Class you're invited to board first so you can settle in and enjoy the First Class experience.
Baggage
Expedited baggage service delivers your bags first. Enjoy up to 2 free checked bags.
Medallion® Member Upgrades