Carbon Neutral from March 2020 Onward
---
Delta's commitment to sustainability is about joining arms to create a better world. The airline's ambitious
commitment to carbon neutrality from March 2020 onward
is coming to fruition with swift impact through immediate actions, coupled with long-term investments to combat climate change. These investments will drive innovation, advance clean air travel technologies, accelerate the reduction of carbon emissions and waste, and establish a path to a more sustainable future.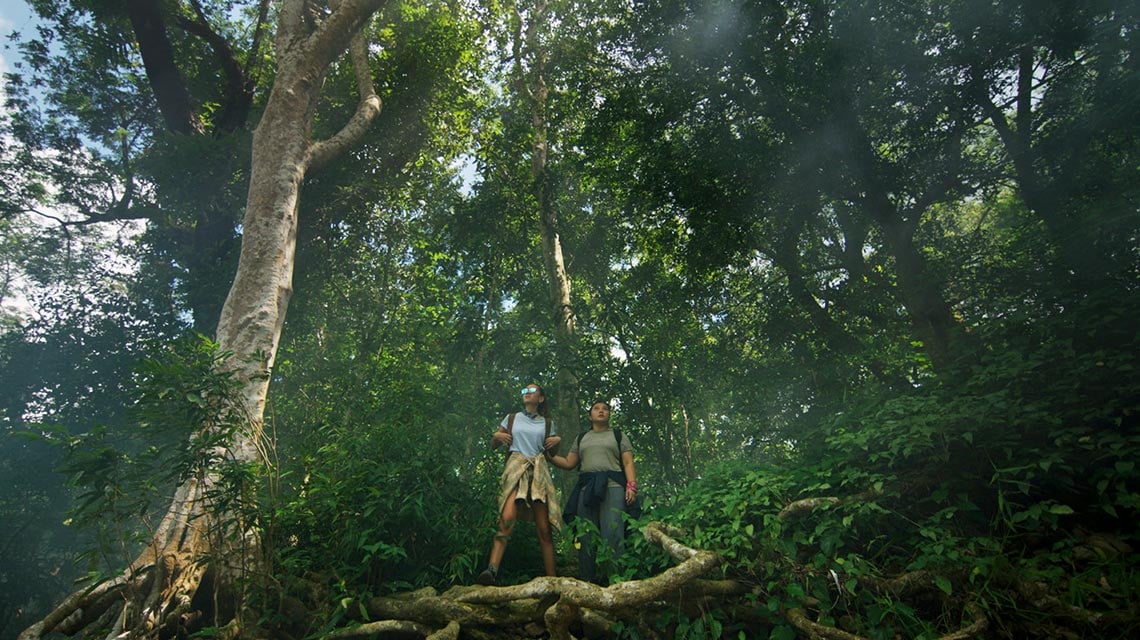 As a company driven by purpose, we hold ourselves to a high standard of producing sustainable, responsible financial results while investing in healthy communities, maintaining a diverse and inclusive workforce, and protecting natural environments. These values drive our overall approach to Environmental, Social, and Governance (ESG) sustainability and responsibility. Learn more about how we measured against this purpose while facing a global pandemic and the most dire financial situation in the history of our airline.
An Ambitious Path Forward
---
Delta is focusing these efforts on three areas: carbon reduction and carbon removal, stakeholder engagement and coalition building. 
Jet fuel is the No. 1 contributor to Delta's carbon footprint and the chief focus of our efforts to reduce our emissions and manage our environmental impact.
Building a more efficient fleet
We focus on building our fleet to have the longest, most sustainable life possible to make the most of our planet's resources. Over the past year, we've retired more than 200 aircraft and are replacing them with aircraft that are 25 percent more fuel-efficient than the models that are being replaced.
Reducing emissions through Carbon Offsets
Carbon offsets reduce the amount of CO2 in the atmosphere, which lowers greenhouse gas levels – the primary culprit for global warming and climate change. To ensure we are fully carbon neutral since our commitment was announced, Delta is addressing 13 million metric tons of its carbon dioxide emissions from March 1 to Dec. 31, 2020 through verified offsets.
CARBON NEUTRAL FLIGHT
---
Because we've committed to carbon neutrality from March 2020 forward, you can feel confident that when you choose to fly Delta, your flight will be carbon neutral. While we have suspended our current customer offset purchase program, we are developing new options for customers who want to join us on our journey.

Alternative fuels, sustainable future
---
Delta's medium-term goal is to replace 10 percent of its jet fuel refined from fossil fuel with sustainable aviation fuel by the end of 2030. Delta has even started executing industry-leading
sustainable fuel agreements with corporate customers
to support a future of more sustainable business travel.
Improving Our Environment by Reducing Our Impact
---
Delta continually assesses all aspects of our operations to minimize what we send to landfills and identify opportunities for material reuse and recycling.
Reducing Single-Use Plastics
We use compostable stirrers onboard and removed wrappers from cutlery and amenity kits, eliminating 30K lbs. of waste annually. We're evaluating changes to more single-use plastics through lifecycle analyses.
MAKING THE MOST OF RECYCLABLE MATERIALS
Since 2007, we've recycled more than 3 million pounds of aluminum onboard and, with the rebates, have funded 
the construction of 12 homes
 through Habitat for Humanity. 
Giving new life to old uniforms
---
In 2020, 50,000 pounds of uniform apparel were sent for waste-to-energy recovery, avoiding the landfill. In 2018, we embarked
on one of the largest single company textile diversion programs in U.S. history
. To accomplish this, we donated clothing articles to those in need, upcycled fabrics and retired seat leather into a special product line, and down-cycled remaining materials into products like home insulation and pet bed stuffing.
Waste Reduction Highlights
PARTNERSHIPS
Delta is partnering with universities, foundations, and others to explore circular economy solutions to waste.
ON-THE-GROUND DONATIONS
A donation program was launched in 2020 to divert food, blankets, amenity kits and other provisioning items to various organizations. 2.6 million pounds of materials were donated last year.
ZERO-WASTE SKY CLUBS
All Delta Sky Clubs use eco-friendly packaging for to-go foods. MSP, SEA, and SFO clubs are zero-waste, as in 90% landfill diversion. These clubs recycle, compost, and provide eco-friendly food service items.
Carbon avoidance (external to Delta, an offset type): Offsets that result in avoidance of additional emissions, such as preventing deforestation and protecting forests to ensure they continue to absorb carbon dioxide.
Carbon dioxide: Carbon dioxide is a naturally occurring gas. It is also a by-product of burning fossil fuels (such as oil, gas and coal) and industrial processes (such as cement production).
Carbon neutral: Carbon neutrality means for each ton of carbon dioxide we emit, we are securing a verified, certified ton of carbon dioxide reduction. In the short term, Delta intends to achieve its carbon-neutral goal by reducing emissions through direct reductions from fleet and operational efficiencies, as well as investments in all types of verified carbon offsets: reductions, avoidance and removals. This includes the airline's jet fuel consumption emissions as well as indirect emissions from power generated elsewhere, also known as Scope 1 and 2 emissions. Delta's carbon-neutral efforts also cover emissions generated by fuel consumption from Delta Connection carriers, which are Scope 3 emissions. See Scope 1, 2 and 3.
Carbon offset: A carbon offset is a certificate generated for the reduction of one metric ton of carbon dioxide emissions from an offset project.
Carbon reduction (within Delta): Carbon reduction in aviation is achieved by reducing fuel burn. This can be done in our operation by flying more efficiently due to routing, engine performance management, or reducing weight, as examples. Reductions can also occur by using a more fuel-efficient fleet and new fuel technologies, like sustainable aviation fuel.
Carbon reduction offsets (external to Delta, an offset type): Offsets that invest in technology or projects that result in a reduction in emissions. Examples are conversions to lower-carbon energy sources such as wind and solar.
Carbon removal (external to Delta, can be an offset type): Carbon removal is the process of removing carbon dioxide from the atmosphere and storing it. Examples include planting new forests (afforestation/reforestation), increasing the amount of carbon stored in soils (soil carbon sequestration) and building machines that suck carbon dioxide directly out of the atmosphere and bury it (direct air capture).
Carbon sequestration: Carbon sequestration is the process of capturing and storing atmospheric carbon dioxide. It is one method of reducing the amount of carbon dioxide in the atmosphere with the goal of reducing global climate change.
Greenhouse gases: Gases that contribute to the atmosphere's greenhouse effect by absorbing infrared radiation. These include carbon dioxide, methane, nitrous oxide and fluorinated gases. In the context of aviation, the net effect of greenhouse gases is a warming effect on the earth's climate.
Scope 1 emissions: Scope 1 includes all emissions generated as part of the operation of Delta's air transportation business: jet fuel from Delta mainline, Endeavor Air, a wholly-owned subsidiary of Delta Air Lines, plus emissions from ground support equipment and other group operations, chemical use, etc. This does not include the Monroe Refinery.
Scope 2 emissions: Scope 2 includes emissions that result from the generation of electricity, heat or steam purchased by Delta in both owned and leased facilities, such as airport spaces.
Scope 3 emissions: At this time, our Scope 3 emissions include all jet fuel from Delta Connection carriers that we do not wholly own. It does not include airlines in which we participate in a joint venture. It also does not include our supply chain emissions (emissions generated by our vendors). We are in the process of getting our arms around calculating those emissions.
Sustainable aviation fuel: An alternative to fossil fuel, sustainable aviation fuel can reduce emissions by up to 80 percent during its full lifecycle. Examples include bio-fuels and synthetic fuels. Some definitions of sustainable aviation fuel do not include synthetic fuels.
Zero-impact aviation: It is an ambitious goal that would result in air travel that does not damage the environment directly or indirectly via greenhouse gas emissions, noise, waste generation or other impacts.
Note: Delta has been publishing annual Corporate Responsibility Reports (CRRs) since 2009. To request a CRR prior to 2018, please contact sustainability@delta.com