Discover Private
Jet Travel
Delta Private Jets helps you choose the private jet experience that's right for you. As a wholly owned subsidiary of Delta and with multiple programs to choose from, customers and aircraft owners can enjoy a wide range of options and benefits for both private and commercial travel. Delta Private Jets has been named "Best Private Jet Service" by Executive Travel magazine 5 years in a row.
Delta Private Jets Card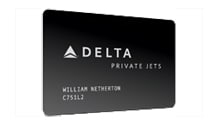 Charter

Partners

Whether it's luxury resorts and hotels, vacation clubs, car rentals or yacht partners, you will enjoy a wide range of travel and leisure benefits with Delta Private Jets. Discover our partnerships.
Aircraft Management