---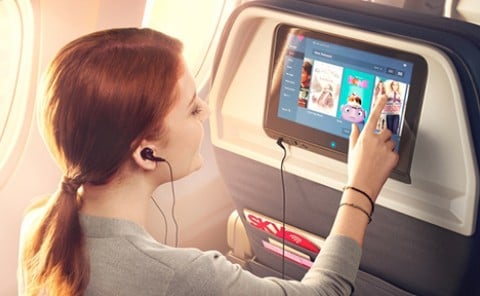 The Best Entertainment is Now Free
Delta was the first U.S. airline to offer all in-flight entertainment for free. That means you can enjoy over 1,000 hours of entertainment from your own device or your seatback screen-all free of charge. That includes the latest movies, TV,HBO®, SHOWTIME®, music,podcasts, games and more. #Watchfreely
ENTERTAINMENT IN YOUR HANDS
To stream on your laptop (Windows 10 compatible), iPhone®, iPad®, or Android™ tablet device, you'll need the Gogo Entertainment App, available from the app store or via Delta Wi-Fi Portal once in flight. We recommend you download the app in advance so you can start watching quickly in the air.
TOUCH AND GO
Our advanced, touch-screen digital entertainment system puts you in charge of your entertainment options. Choose from up to 300 movies, HBO®, SHOWTIME®, 18 channels of live satellite TV on select flights, podcasts, TED Talks, 2,500+ songs, TV and games, including in-flight trivia.
You'll find seat-back screens on most long-haul international flights and on the following domestic aircraft:
737-700 | 73H | 76P/Q/L/Z | 767-400 | 737-900ER
757-300 | A330 | 747-400 | 75S | 777-20

TV Shows
Choose from a number of popular, award-winning TV shows, HBO®, SHOWTIME®, and original digital content.
Movies
From comedy to drama to family and thrillers, watch new releases and old favorites.
Content may vary by flight.
STAY CONNECTED WITH WORLDWIDE WI-FI
Gogo in-flight internet allows our customers to stay connected, surf the web, check email and not miss out on anything happening on the ground.
All 2-cabin aircraft have Wi-Fi and International Wi-Fi is available on 100% of all wide body, long-haul aircraft providing near global coverage.
Delta is investing in technology upgrades across the fleet that will continue to position us as a leader with Wi-Fi products.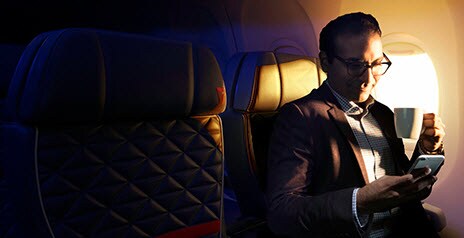 Delta is equipping select domestic fleets with High Speed Wi-Fi, powered by Gogo's 2Ku technology, offering much faster connection speeds. This will allow customers to do more online including stream video, use your VPN and seamlessly browse the web with near global coverage and connectivity from push-back to park. Delta is bringing the 'at home' Wi-Fi experience to our customers in-flight. Look for this logo on your next flight for the new 2Ku Wi-Fi.
LAPTOP WI-FI ACCESS
Purchase a Delta Wi-Fi Pass before you go or through the Delta Wi-Fi portal once onboard.
MOBILE MESSAGING
With an in-flight Mobile Messaging Pass available for as low as $2.95, it's even easier to stay connected in the clouds.
DELTA DOMESTIC MONTHLY PASS
Non-stop Wi-Fi, all month long. Pay one low monthly rate and get unlimited Wi-Fi access when you fly.
DELTA DOMESTIC ANNUAL PASS
Our best value for Delta frequent travelers. Now you can buy Wi-Fi access for an entire year for one special price.
DELTA DOMESTIC DAY PASS
Perfect for the longer journey. Enjoy a day of unlimited Wi-Fi on all Gogo® equipped flights in the contiguous US 48 and Alaska.
Access delta.com for Free

Our in-flight Wi-Fi portal offers free access to delta.com, where you can manage your trip, book a flight, check your SkyMiles account, book a hotel and car, and get the latest flight status.
Partner Offers

Enjoy free access to select shopping sites, exclusive deals and Delta news and products
Fly Delta App

Track your flight on our flight tracker, check real-time progress and book travel easier with Apple Pay.