LOCAL FLAVORS WITH A GLOBAL APPEAL
Eating on board reaches a new level with regionally tailored, chef-driven menus in Delta One™. Our
latest crop of artful dishes — fresh out of the test kitchen — was crafted by a team of celebrity chefs
and James Beard Award winners. So, go ahead. Celebrate invigorated dining at 30,000 feet.
Napa Valley-based chef and restaurateur Michael Chiarello has a knack for integrating Southern Italian cuisine with his northern California lifestyle. He's dishing up exquisite three-course menus, including an antipasto plate, entrée and dessert course featuring fine cheeses and gelati.

Japanese culinary tradition and seasonality is met with Chef Masatoshi Ishimoto. Chef Ishimoto's reinvigorated menu features contemporary tastes and high-quality ingredients from various parts of Japan. You'll also enjoy Chef Michael Chiarello's tastings, tailored to offer an Asian flair, on flights from the West Coast to Japan.

South America & Mexico Flights
Food Network star and Miami-native Michelle Bernstein constructs seasonal, signature dishes with the bold and bright flavors of Latin America. Trust her to whip up tasty south-of-the-border bites.

Masatoshi is a classically trained French chef with Japanese roots. He is a Delta employee and has been developing innovative cuisine for our customers for more than 25 years. In 2014 he was a Chairman's Club nominee.
Bernstein was named one of the Southeast's top chefs by Food & Wine and also was nominated for the James Beard Award for best chef.
Atlanta to Europe Flights
Headed to Amsterdam, Frankfurt, London or Paris? Atlanta-based Chef Linton Hopkins cooked up a new menu since winning "The Cabin Pressure Cook-Off." Inspired by artisan foods of the American South, look out for local suppliers, regional cheeses, Carolina Gold rice and grits, local charcuterie and pork, mountain trout and seasonal fruits and vegetables.

James Beard Award winning-restaurateur Danny Meyer offers a menu from his New York-based Blue Smoke restaurant, delivering flavors from the American South. Customers flying from New York's JFK to Amsterdam, Brussels, Dublin, Frankfurt, London, Paris, and Zurich will enjoy all-new menu offerings, paired perfectly with Blue Smoke's signature Lynchburg Lemonade cocktail.

Shuttle flights on this route feature new offerings from Luvo™, a lifestyle food brand. You can nosh with a clear conscience on trans fat-free and artificial ingredient-free offerings flavored with only spices — no butter, cream or preservatives here. Sustainable packaging doles out healthy snacks, like sunflower seed butter and edamame hummus.

Linton has been named a Best Chef by the James Beard Awards and Food & Wine magazine. His restaurants include Atlanta's Restaurant Eugene.

Look out for locally-sourced foods, packed with wholesome ingredients and big flavor. You'll find our latest addition, Atlanta's own homegrown Honeysuckle Gelato, when you fly in First Class on select long-haul flights from Atlanta.
WINE TIME
"I've chosen a mix of classical and cutting-edge selections so you have some fun choices, all of them
excellent. We tested every wine in-flight to make sure it tastes just as good at altitude as on the ground. Enjoy!"
- Andrea Robinson, Master Sommelier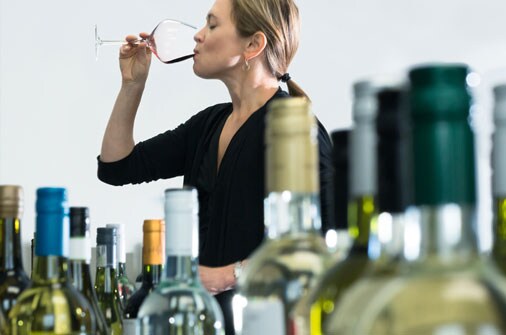 Master Sommelier Andrea Robinson
Andrea Robinson, one of only 21 female Master Sommeliers in the world, pulled superior wine selections that pop at 30,000 feet. A three-time James Beard Award winner and former Dean of the French Culinary Institute, Andrea expertly matched wine pairings to bring out the depth of flavor and richness of each course.

Using her vast knowledge and unparalleled palate, Master Sommelier Andrea Robinson has selected a host of fine wines for Delta One. Andrea even tests every wine in-flight to make sure they taste just as good at cruising altitude as they do on the ground. Enjoy the distinct personality of her selection when you fly intercontinental and transcontinental Delta One.
Watch Andrea at Work
Andrea's Current Wine Selection
All international Delta One destinations, except special programs noted below
Whites
Sonoma-Cutrer Russian River Ranches Chardonnay,
California, 2013

Errazuriz Sauvignon Blanc,
Chile, 2014
Reds
Château de Lussac,
France, 2007

Elouan Pinot Noir,
Oregon, 2012
Champagne
Champagne Jacquart Brut Mosaïque,
France, NV
Dessert Wine/Port
Banfi Rosa Regale,
Italy, 2013

Quinta de la Rosa Tawny Porto,
Portugal, NV
---
Traveling to/from London Heathrow and Paris
Whites
Château Guiraud,
France, 2013
Beni di Batasiolo Langhe Chardonnay Serbato,
Italy, 2013
Reds
Decoy Pinot Noir,
California, 2012

Château Cantemerle,
France, 2011
Champagne
Champagne Jacquart Brut Mosaïque,
France, NV
Dessert Wine/Port
Banfi Rosa Regale,
Italy, 2013

Quinta de la Rosa Tawny Porto,
Portugal, NV
---
Traveling to/from Sydney, Australia
Whites
Wakefield Estate Chardonnay,
Australia, 2013

Errazuriz Sauvignon Blanc,
Chile, 2014
REDS
Gosford Reserve Shiraz,
Australia, 2012

Château de Lussac,
France, 2007
Champagne
Champagne Jacquart Brut Mosaïque,
France, NV
Dessert Wine/Port
Banfi Rosa Regale,
Italy, 2013

Quinta de la Rosa Tawny Porto,
Portugal, NV
EATS AND DRINKS
From our signature Biscoff® cookies to special-order meals,
we're refreshing onboard refreshments with the foods and drinks you love.


Choose from a wide variety of soft drinks, juices, bottled water, Starbucks® coffee and tea, plus your choice of pretzels, peanuts or our signature Biscoff® cookies. Passengers in Delta One, First Class and select Delta Comfort+ flights will enjoy our Premium Snacks, which include chips, candy and fresh fruit1.

When time calls for caffeine (or decaf) you can request freshly brewed Starbucks® coffee — complimentary on every flight.
Sample craft beers on all U.S. flights. Availability varies by region and may include:
Ballast Point Brewing Company (CA)
Blue Point Brewing Company (NY)
Brooklyn Brewery (NY)
Lagunitas Brewing Company (CA)
Newburyport Brewing Company (MA)
Samuel Adams (MA)
Stone Brewing Company (CA)
SweetWater Brewery (GA)

From a smoked turkey bagel sandwich to a roast beef slider, we have delicious options waiting for you onboard.
Classic is offered on domestic, Caribbean, and Latin America flights
Coast-to-Coast is offered on JFK-LAX/SFO-JFK
Hawaii is offered on ATL-HNL-ATL

Gluten-free? Kosher? Diabetic? No problem. We accommodate 17 different special meals. These special meals are available in First Class, Delta One and all economy class flights where complimentary meal service is offered. View the complete list of special meals to determine which meal meets your need.
Please make all special meal requests through My Trips at least 24 hours before your scheduled flight departure. Once you check in, let the gate agent and a flight attendant know that you ordered a special meal.
Tastes change with the season, and now you'll find flavors to match on board. Celebrate the coming of fall by cracking open a crisp Samuel Adams Octoberfest, our featured seasonal craft beer available through October 31st.² This deep, smooth lager with creamy caramel notes is available for $7 in the Main Cabin and complimentary in First Class.
²Available on all Delta and Delta Connection flights within the U.S., Canada, and the Caribbean and most international flights.
---