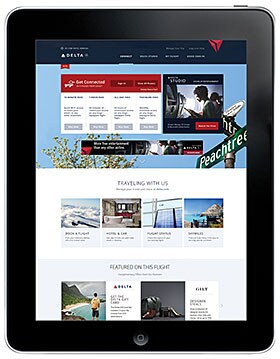 When it Comes to Staying Connected, You've Got Options:
Purchase a Gogo® Internet Session
Get full access to the Internet with your Delta Wi-Fi Pass. When you're in the air and online with Gogo, you're connected to all the things that matter. Simply purchase a Delta Wi-Fi Pass before your flight, or through the Delta Wi-Fi portal once on board.
Access delta.com for free
Our in-flight Wi-Fi portal offers free access to delta.com, where you can manage your trip, book a flight, check your SkyMiles account, book a hotel and car and get the latest flight status — all from 30,000 feet. Check out our Traveling With Us section on the portal.
Partner Offers
Enjoy free access to everything from exclusive shopping deals to Delta news and products within our Featured On This Flight section.
Flight Information
Click on the My Flight link to track your flight on our moving map, check real-time information on your flight progress, and get details about your aircraft. Simply click on My Flight on the portal and keep yourself up to date.
Entertainment
Remember, Delta Studio™ in-flight streaming is available without purchasing a Wi-Fi pass!
Connect your smartphone with a Wi-Fi Mobile Pass
With an in-flight Wi-Fi Mobile Pass available for as low as $1.95, it's even easier to stay connected in the clouds. Send and receive mobile messages via apps like Apple iMessage®, Blackberry® Messenger, WhatsApp, Google Hangouts™ and Facebook Messenger. Or, you can email and browse the web — all from your smartphone. Purchase a Wi-Fi Mobile Pass once above 10,000 feet to start surfing.

Gogo Has the U.S. Covered
Delta Connect and Gogo are available on Gogo equipped flights within the continental U.S. and portions of Alaska*.

With Delta and Gogo, you can surf the sky knowing that we have you covered on Gogo equipped flights within the entire continental U.S. & Alaska.
*Service is not available outside the continental USA and Alaska as shown. Some parts of Alaska may experience interruptions.

Check My Trips to see if Wi-Fi is available on your flight.

How To Connect
Wi-Fi. You've got it on the ground — now look for it in the air.
To see if the Internet is available, look for the "Wi-Fi Onboard" icon overhead or next to your row number.
To connect, turn on your Wi-Fi device, connect to the "gogoinflight" signal and launch your browser.
Tech Tip: You can connect with any Wi-Fi enabled device, including laptops, tablets and smartphones (set to airplane mode, of course).


Pick Up a Pass
Want Wi-Fi when you fly? Get your 24-hour, monthly or annual in-flight Wi-Fi pass today!

Get It Now
Terms and Conditions
Additional restrictions may apply. Offers are subject to change. Passes starting as low as $1.95 are available in select markets. Use of the Gogo® Inflight Internet service is subject to terms of use available at gogoinflight.com.
Voice service is not permitted nor supported.
Inflight connectivity works with virtually any Wi-Fi enabled device that runs Android®, Apple®, Windows®, and Blackberry® platforms. Supported browsers include: Safari, Google Chrome, Windows Explorer (version 8 or above), and Firefox. The service works just like most wireless mobile broadband services on the ground.
Any liability for damage to the passenger caused by loss of information or data is rejected by the airline. In case of misuse or manipulation, any liability is rejected by the airline. Even within the nationwide coverage area, there are several factors that may interfere with actual service, quality and availability, including the ability to initiate, validate and maintain an in-flight connection. These factors include, but are not limited to: network changes, aircraft and network traffic volume, service outages, technical limitations, signal strength, and other conditions.