Signing up for Delta's monthly SkyMiles statement (The Insider) means you'll stay up to date on your mileage balance, know how close you are to reaching your next Award Trip and Medallion® status, and receive news of all the latest happenings at Delta.
Inside each monthly INSIDER, you'll get: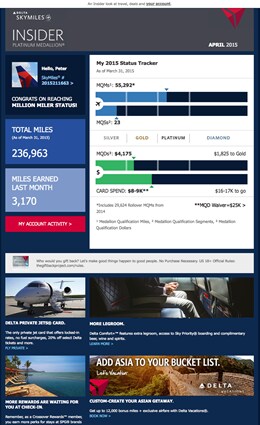 MILEAGE BALANCE: Easily check your monthly Mileage Balance (because your next vacation may be closer than you think). Beginning in January 2015, updates to the SkyMiles program mean there will be more Award Seats available at the lowest redemption levels and more redemption levels overall.

STATUS TRACKER: Stay on top of your Medallion Qualification Miles (MQMs), Medallion Qualification Segments (MQSs), Medallion Qualification Dollars (MQDs*) and Delta SkyMiles Credit Card spend (MQD Waiver*) —always know how close you are to reaching the next Medallion status level.
DELTA NEWS: Be among the first to know about new service offerings, product enhancements and promotions—so you never miss out on the best deals or seats.
Subscribing is easy. Just go to the Notifications module in My Delta and select Your SkyMiles Monthly Insider from the News & Special Offers section. If you're an active SkyMiles member, you can look forward to seeing the INSIDER in your inbox each month.
*Only applies to U.S. based members.