My Delta
It's All About
Making Travel Easier
My Delta is your secure, password-protected home for all the business you conduct through delta.com — including travel and payment preferences, SkyMiles® account information, and more.
Go To My Delta
See Hints and Tips
The Personalized Dashboard
Imagine all your travel information and preferences on a single page and dynamically linked to the ticketing process. Welcome to your digital dashboard.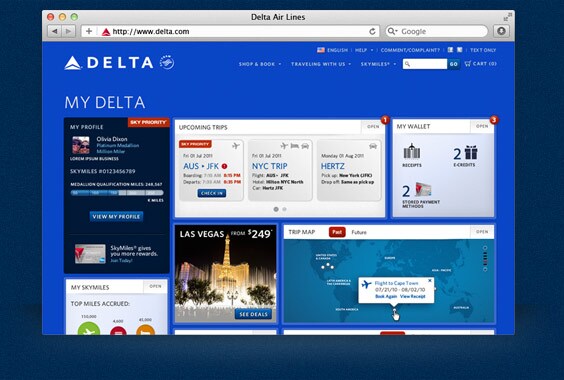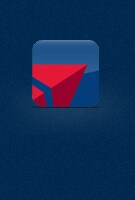 The Dashboard Goes Mobile
As useful as the delta.com dashboard, only this one is always close at hand as part of the Fly Delta app on your smartphone.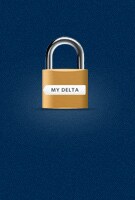 Easier & More Secure Login
We're transitioning away from the PIN-based login, to a simpler and more secure username and password.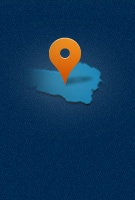 A trip map that also Looks Forward
This trip map not only tells you where you've been, it tells you where you're going.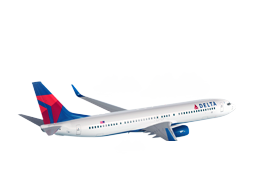 My Trips
Your upcoming trips,
in every detail, saved here.
Book hotels, car rentals and Trip Extras right here. Make your travel arrangements and keep them close at hand entirely within My Trips. Flight information, lodging and car rentals: If it's booked through delta.com, you'll never miss a beat.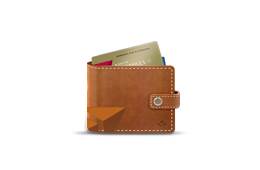 My Wallet
Keep payment information
and receipts where they belong: safe.
Losing travel receipts is so 2011. From now on, itemized flight, hotel, and car rental receipts are stored securely online. All preferred forms of payment, certificates and eCredits, are kept here too, which makes ticketing faster and easier than ever.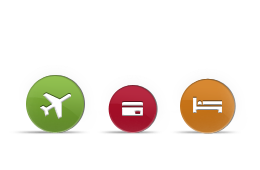 My Skymiles
Click. Instant SkyMiles account info.
Whether you're a SkyMiles newbie, or a Diamond Medallion® member with a million miles under your belt, My SkyMiles keeps your account up to date and a click away.
The New Fly Delta Apps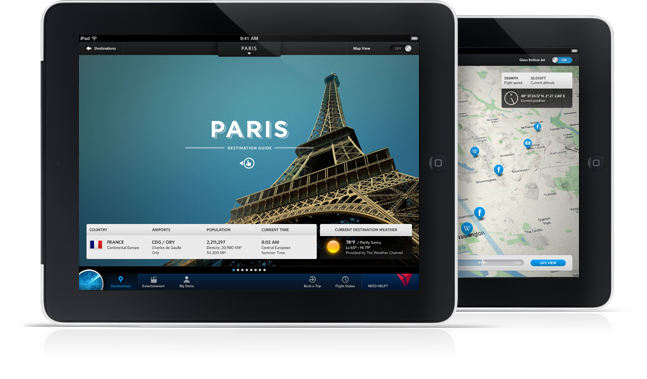 The iPad App
That's Going Places
Transform your journey with the Fly Delta app for iPad®. This interactive tool is your own customized concierge, as it guides you through booking, trip management, and on-the-ground destination and entertainment options. Plus, it features the spectacular Glass Bottom Jet™, so you can sightsee from the sky via maps, social networks and more.

More than just an app
We started with everything you'd expect in an iPad app, and just kept going.

Glass Bottom Jet
Explore the land you're flying over with a stunning, one-of-a-kind interactive map.

Destinations Globe
Spin the globe to explore destinations and find your ultimate getaway.

Destination Guide
Once you decide on a destination, explore the restaurants, nightlife and maps before you arrive.

My Delta on
i

Pad

Your password-protected destination for all your personal Delta preferences, now optimized for the iPad.

Travel Entertainment
Download digital editions of Sky magazine, plus music and books to make your flight just right.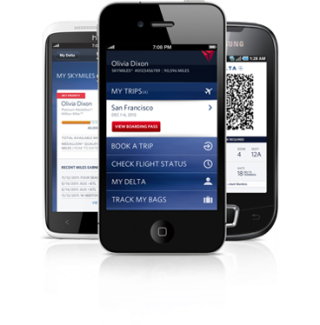 The power tool for your smart phone
We just took a great mobile app and made it even more powerful by putting the world at your fingertips. The new Fly Delta app is the mobile extension of your Delta digital hub with much of the same new functionality as delta.com on what is now your very smart phone.
New Features June 2013
The latest update to Fly Delta for iPhone adds the ability to book International flights, in-app access to Preferred Seats – like bulkhead and aisle – and the ability to share where you're headed and when you get there, right on Facebook with the Fly Delta app for iPhone®. You can even start building out a travel history of all the destinations you visit.
Learn more
Download for iPhone® Now
Download for Android™ Now

Book a Trip
Find, compare and purchase flights for one or more passengers.

Change your seat
View available seats including Economy Comfort™ -- or find a better seat while on the go.

Add trip extras
Purchase in-flight Wi-Fi, Priority Boarding, and more.

More account features
All personal account information created online, is now available on your phone.
New Releases
TAKING OFF
Read up on foodie finds, global getaways, travel tips and more.
Refire your appetite for food, wine and picturesque views with a dose of travel inspiration on our new blog. Check out travel tips from the pros and dish out your own standout sights and enticing excursions.
GIVE THE GIFT OF TRAVEL
Need a unique gift for a special someone? Introducing new eGift Certificates – they are easy to give, never expire, and make the perfect present for anyone who loves to travel.