TechOps Locations

The Technical Operations Center in Atlanta operates as both an FAA-certified Part 145 Repair Station and as an FAA-certified Part 121 Air Carrier. We use the appropriate engineering authority, in concert with support from the aircraft and engines' original equipment manufacturers, to implement repairs, modifications, and reliability upgrades as required or requested.
Maintenance Facilities
Click any city to see what maintenance is available there.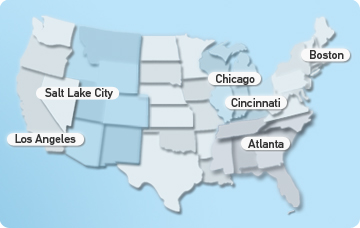 In Atlanta...
Delta's Technical Operations Center (TOC), covering nearly 2.7 million square feet, was specifically designed to provide a smooth flow of work and materiel. Aircraft work is done in one area, engine work in another, components in yet another, all tied together by an efficient, reliable multi-vehicle transportation system capable of delivering materiel and parts quickly. In addition, a network of pneumatic tubes carries small parts and paperwork between shops and offices throughout the facilities, further enhancing our efficiency.
We call our computerized materiel management operation "Stores," and it "knows" the precise location of millions of parts. Stores supports the entire Delta system, delivering orders throughout the TOC and worldwide network.
Delta's TOC is the recipient of many of the industry's highest performance excellence awards, and provides turnkey maintenance packages for a growing, satisfied base of repair customers, including some of the most respected names in aviation:
TOC-1, our smaller hangar, can accommodate up to two widebody aircraft and four narrowbody aircraft simultaneously.
TOC-2, our larger hangar, is one of the world's largest cantilevered buildings. Its shed-like design can accommodate six widebodies and six or more smaller aircraft simultaneously.
TOC-3 provides four floors of shops and warehouses and three state-of-the-art paint hangar bays.
And Elsewhere...
Delta TechOps also has major airframe check facilities around the country. All service is available in Atlanta, but you can also get many levels of maintenance elsewhere. Light maintenance is available on widebody or narrowbody aircraft in Salt Lake City, Los Angeles, Cincinnati, Boston, and Chicago. Click the cities on the map above to see exactly what is available in each city.
The Repair Station Certificate number for Atlanta TechOps is DALR026A.